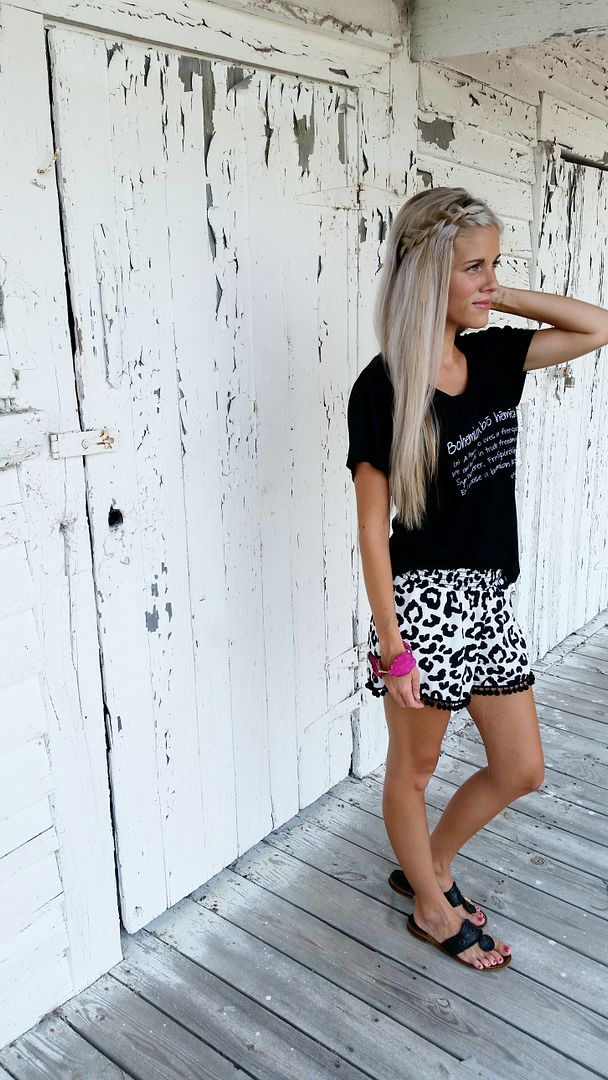 Amanda's Outfit: || top – Royal Bowtique – use code: wifey15 for 15% off || pom-pom shorts – SoLace Boutique (similar below) || bangle – Sweet Tea Jewels – use code: littlesouthernwife for 20% off || shoes – Jack Rogers ||
Harper's Outfit || Romper – Little Lucca Love || Bow – Shop Jella Bee ||
If it hasn't become completely obvious to you at this point, let me make it super clear: I live for comfortable clothing. There is nothing worse than wearing an item of clothing that makes you feel uncomfortable. Being that I work from home, I do stay in pjs some days, but I always make it a point to get dressed when I leave our house. I have two small children, it's a hundred and ten degrees out, and I have a million errands to run when we leave, so I have been wearing elastic-waisted pom pom shorts, a loose shirt, and my Jacks multiple times a week.
I am really loving this black 'Bohemian' shirt from Royal Bowtique! Ive styled it with leggings, jean shorts, jeans, and with pom pom shorts! I've linked a few of my favorite pom pom shorts below!

Pandthelion

Pandthelion

Lila Rose Boutique

Royal Bowtique
---
*Disclosure: I was not financially compensated for this post, and I shop these boutiques in real life. I did receive these items as samples to review, but my opinions are completely my own.*