Happy Hump Day! I am so excited to announce that I have teamed up with an amazing group of bloggers to bring you another instalment of "Hump Day Highlights".
Each Wednesday we will list some things from the past week that we are loving, can't live without, are on our wishlists, or are things we are just plain obsessed with – and we will even add links (when applicable) so you can check out or scoop up anything you love, too.
Your weekly hosts are Misty, April, Kyra, Shannon, Amanda, Danica, Candice, and Kaitlyn. We would love for you to add your post to our link up of the things you are loving this week, too. And please spread the love by following the other blogs in the link up/commenting on their posts. This is such a great way to meet like-minded ladies and make new friends, all while showing off your blog, too. The Hump Day Highlights weekly link up is going to be a blast, I hope you link up and follow along!
When you grow up in the South, you develop a great appreciation for a table full of homegrown foods. Because we both grew up southern, Derrek and I knew we wanted a garden of our own.


We grew up with parents who had gardens, and we spent many days working alongside them, tending to their gardens and eating the bounty that was produced. After we had Nolan, it was only logical for us to make raised gardens.


We chose to make two 8×4 raised beds with treated wood. We filled them with gardening soil from Lowe's and with chicken manure that one of Derrek's patients gave us from her chicken houses.
For the past two summers, we have enjoyed what our garden has produced. We grow lettuce, spinach, carrots, onions, kale, tomatoes, and so many cucumbers that we give them away daily.


Having a garden is such a great form of therapy, no matter how big or small it is. No matter what is going on, we can go outside and work in the garden and leave with better peace in our hearts. Working with our hands in nature and growing our own food is so amazing on its own, but adding our children to the mix makes it 100 times better.

Nolan has always loved going outside and grabbing tomatoes or cucumbers straight from the vine to munch on. This year he is old enough to help us plant, and he is very excited about his soon-to-be unlimited supply of veggies to snack on.

After fall, we winterized our garden beds by wedding them and topping them with hay to prevent weeds from overtaking them.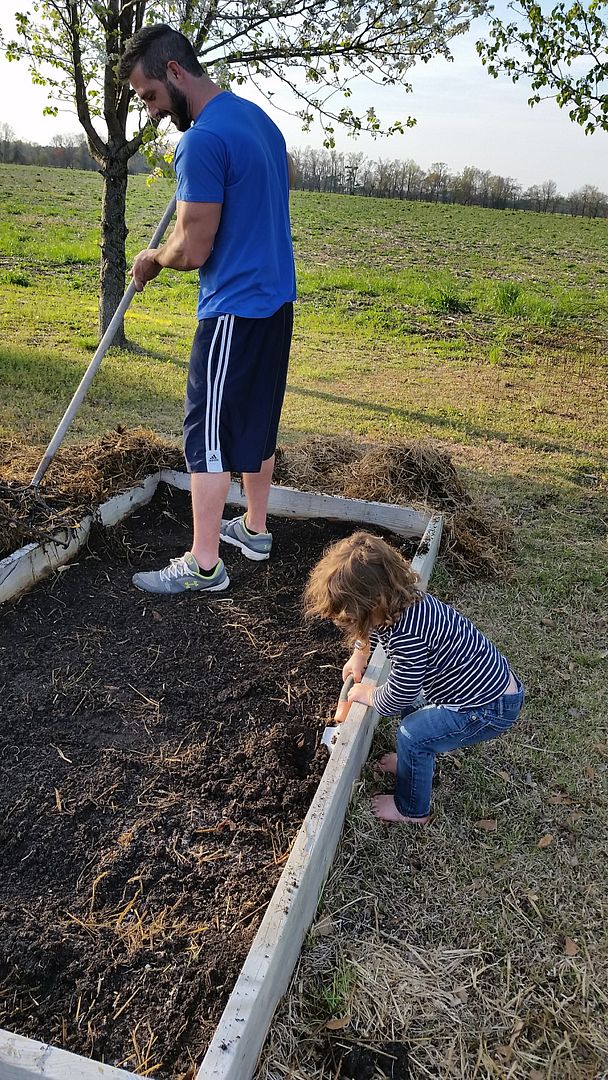 Once the weather turned nice again, we cleaned the hay out and added a few bags of organic garden soil and chicken manure to replace the soil that eroded throughout the season.

Nolan has already helped a lot so far by planting marigolds around one of the beds to keep pests at bay, and he helped plant and water one garden bed this week!
We plan on adding more raised beds this year and installing trellises for the cucumber, cantaloupe, watermelon, and pumpkins to grown on. We also make these really cool bean teepees that the kids can play in.
I plan on blogging about our garden throughout the season so you can see our progress. I hope you get inspired and go buy yourself some soil and seeds this weekend. It does not matter if you plant one vegetable in a pot or plant an entire field. You and your family will reap the rewards, both spiritually and physically, from your hard work.